We are bullish on Surge Holdings Inc. (OTCMKTS:OTCQB:SURG) as a small-cap growth opportunity in the speculative Fintech space. The main gist of our thesis is that the company is starting to perform, especially on a topline basis, but shares are being left behind because it's a complex story that doesn't easily fit into any established "boxes".
Investors are more easily excited by opportunities that are tidy and digestible and easily processed in some established market niche that includes other major market success stories that easily come to mind. For example, we all know what a "cloud computing stock" is now. But many cloud names were deeply undervalued a decade ago because investors didn't understand how to extrapolate early stage growth for a company that provided online business or consumer services. Now we know what a cloud stock is, and the market is constantly looking for new ones to launch higher as soon as they show serious topline traction.
Surge Holdings is, as far as we can tell, entirely unique in terms of its model and end market. So, the first point to make here is to contextualize the company in terms of its business model and value proposition. After that, we can talk about the degree to which the company is achieving its core objectives, and how recent events suggest a big upside based on our analysis.
The Underbanked Model
As noted above, the Surge story is complicated. The main source of confusion is because the company penetrated its current market positioning by way of a prepaid mobile model. The prepaid mobile marketplace was a vehicle for establishing a wide footprint in the c-store marketplace – because convenience stores and community stores are effectively the central physical checkpoint for prepaid wireless customers.
This provided Surge management with two key assets: a very robust network of relationships with major regional c-store end market management teams and a lot of insight into the underbanked consumer market.
This first point should be fairly self-evident. But the latter point is a bit more complex.
The term "underbanked" refers to people or organizations who lack sufficient access to mainstream financial services and products typically offered by retail banks, and generally don't have access to credit cards or loans.
This is a market segment that isn't often targeted. But it's the key to the prepaid mobile universe. It turns out that it is also the key to the c-store universe on a supply chain and logistics basis. At least, that's the bet Surge Holdings is making.
In essence, once you understand how to reach and sell to the underbanked marketplace and once you have a strong network of relationships in the regional c-store market, you can run a business in prepaid mobile. But you can also run a business aimed at disrupting the overall supply chain and logistics model defining all the goods and services that run through these same stores to these same consumers.
So far, since adopting this model last year, Surge has started to see a reacceleration in topline growth. But, because the market really doesn't understand what they are doing, that success is not registering with investors.
We believe this creates a potential opportunity at current levels.
Growth
We started out by pointing to a reacceleration underway for Surge revenues. That point is fairly simple to support with data.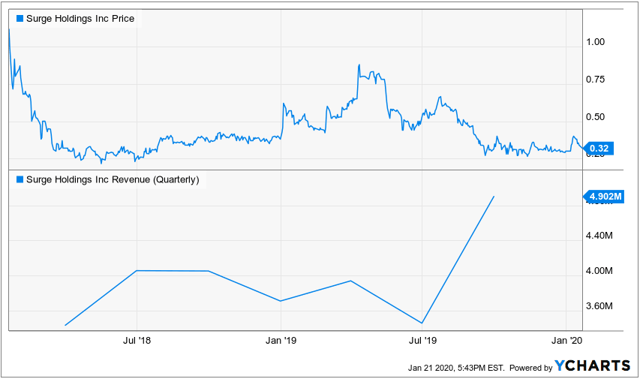 Data by YCharts
This recent jump in topline performance was enough to push Surge Holdings onto Deloitte's 2019 "Technology Fast 500™" list, which is a ranking of the 500 fastest growing technology, media, telecommunications, life sciences, and energy tech companies in North America.
However, as you can see, this didn't really impact share prices, as we have noted.
Another major point here that adds a great deal of weight to the topline growth narrative for Surge is the company's recently completed acquisition of ECS, a leading provider of prepaid wireless load and top-ups, check cashing and wireless SIM activation to convenience stores and bodegas nationwide.
According to Surge communications, this asset acquisition will result in an additional 9,800 stores pulled into the fold of Surge's network, processing approximately 20,000 transactions each day through 160 independent sales organizations and representatives already servicing these stores. That means the company will have nearly another ten thousand locations within its footprint of product and service marketing and a critical mass to attract additional products to the SurgePays marketplace portal.
This represents an enormous amount of potential growth as well as at least some certain growth.
The potential growth depends on management's ability to capitalize on these new relationships and turn prepaid wireless, check cashing and SIM activation into a larger supply chain and logistics opportunity that includes a wider range of products and services, such as foods, beverages, and other goods and services typically found at a c-store location.
The certain growth – according to the company's communications – is in the form of ECS's likely revenues from acquired business operations. Surge CEO, Brian Cox, suggested investors can expect $48.7 million in annualized projected revenues as a baseline expectation:
"This transaction marks a major inflection point for Surge, by immediately adding over 9,800 new retail locations, $48.7 million in additional projected annualized revenue, and 160 ISO salespeople. The developers are already working to integrate software platforms to include the ability to cross-market the SurgePays™ Reloadable Debit Card, SurgePhone Wireless and SIM Starter Kits, as well as layer on additional high demand and trending products through the SurgePays™ Network. ECS and their management team of Derron Winfrey and Mark Garner have been a leader in our sector for a long time. We are excited about working with them to scale up the business – not only by adding stores, but also increasing same-store revenue."
The company also noted that the ECS transaction is expected to be immediately accretive to earnings. The next goal stated by the CEO is to build per store revenue to $1,000 per store through additional products ordered through the SurgePays portal by the c-stores. According to the company, many of these products are trending white-label products with the potential to register 30%-plus margins.
In the big picture, the real opportunity is defined by the degree to which the company can execute on both horizontal and vertical growth. In other words, the real payoff for investors is about both an expanding footprint of stores in the Surge Network and an expanding number of products and services at each location that are sourced through Surge's supply chain and logistics platform.
If this compounding horizontal and vertical growth process takes hold, the company may have the potential for truly remarkable growth ahead. But that remains a question mark at present.
Recent Financials
The company's push back toward accelerating revenue growth hasn't come without a cost. But the shift in model apparent in year-over-year comparisons could be powerfully clarified in Surge's next quarterly report, which we expect in the middle of February. That will represent data for quarter-ended 12/31/2019, and it will provide a great deal of insight as to where this story is headed.
The sense that this is an accelerating growth story is evident from the above section. But, clearly, the market won't reward the stock if we don't also begin to see a declining net loss and a clear multi-quarter trend in terms of year-over-year topline growth.
As we view this story, it is a disruption play, which means the big point is signs of traction. And that really is weighted toward the topline for now. The notion of supply chain and logistics services for a clearly defined market is not particularly risky as a concept – ie, it won't be hard to extrapolate a long-term EBITDA profitable path for this company provided the market can see second-derivative traction in the form of an expanding footprint. At the end of the day, this translates to: the regional c-store supply chain model is or is not ripe for disruption by a model such as the one in play with Surge Holdings.
From its latest 10-Q: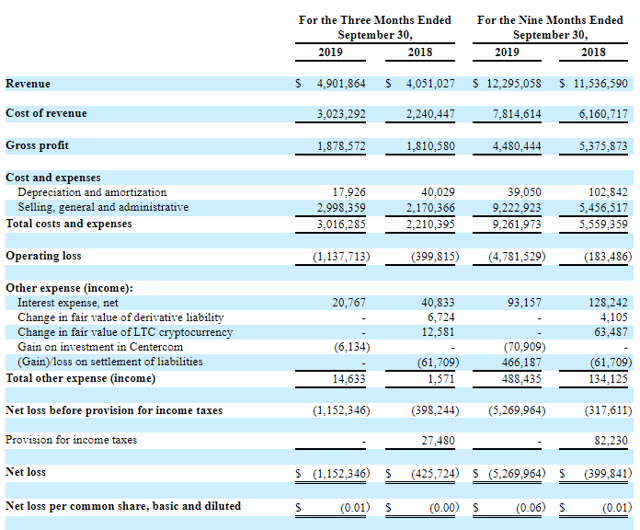 Conclusion
There are plenty of questions still in place for Surge Holdings – big unknowns about how the company will manage to execute on its unique model and potential. So far, we see a great deal of potential and some recent markers of strong execution, particularly in terms of an expanding footprint of potential growth as well as recently accelerating topline performance.
The company's upcoming Dec Q data will be an important next marker of direction for this story. At the very least, given its recent ECS acquisition, continued consolidated revenue growth acceleration looks to be a solid prediction. But the action underneath the surface along with management commentary will likely be more important than the hard data, though the data will obviously be critical.
We suspect that the hurdle of "complexity" and "unfamiliarity" that seems to be weighing on shares in the face of recent growth will subside over time if the company is able to consistently prove its model.
4,397 total views, 1 views today